Joy Kogawa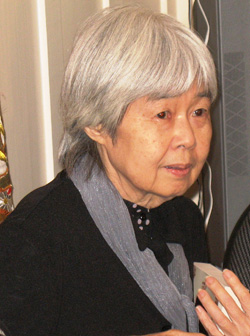 Joy Kogawa is a poet and novelist who is best known for her first novel, Obasan which deals with the trauma of a Japanese-Canadian family up-rooted from their home in Vancouver to the Prairies during World War II. Kogawa regards her later novel, The Rain Ascends (1995) to be as important as Obasan (1981). She began her professional career as a poet with her first volume The splintered moon (1967). Some of the poems in A choice of dreams (1974) deal with Kogawa's trip to Japan and the short lines of verse demonstrate the influence of Japanese poetry like haiku. In Jericho Road (1977) the language is more metaphorical and is further developed in the verse in A woman in the woods (1985) and A song of Lilith (2000). Her selected poems are in A Garden of Anchors (2003).
Kogawa is also an accomplished children's writer and produced Naomi's Road (1986) based on her adult novel, Obasan. After Naomi's Road was published in Japanese an expanded version of the book was reprinted in Canada and was adapted as a play (1995) and as an opera in Vancouver in 2005. In Naomi's Tree (2008) the young woman returns to her childhood home.
Kogawa's other adult novels are The Rain Ascends, and Emily Kato (2005). The sequel to Obasan is Itsuka (1992), a semi-autobiographical novel about the struggle for a redress settlement. This story is reimagined in Emily Kato after the trauma of the 9/11 experience in North America.
An important book on Joy Kogawa was edited by Sheena Wilson in 2011 and contains many details about her life and writing in the short biography, and a revealing interview. See Joy Kogawa: Essays on Her Works (Guernica Editions, 2011).
Joy Kogawa was born in Vancouver in 1935. At the outbreak of WWII all people of Japanese background were evacuated from the west coast to internment camps in the interior of B.C. and to the Prairies. Kogawa and her family lived through this trauma, a subject which she explores in a number of her books.
Updated February 12 2015 by Student & Academic Services