Margaret Atwood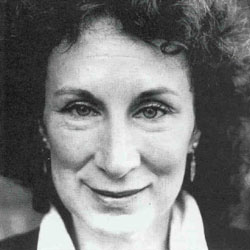 Margaret Atwood is one of Canada's most successful and popular writers. She is also well known internationally in the USA, Europe, and Australia. Her second collection of poems, The Circle Game won the Governor General's Award for poetry in 1966 and her recent novel, The Blind Assassin won the Booker Prize in 2000.
Margaret Atwood was born in Ottawa, Ontario in 1939. Her father was a biologist and her family spent many summers in the northern bush. She studied at Victoria College in the University of Toronto (B.A.), then Radcliffe College (M.A.) and Harvard University. She began her career by publishing poetry. After The Circle Game she produced The Journals of Susanna Moodie (1970), and Procedures for the Underground (1970) followed by Power Politics (1971). In You Are Happy (1974) she explored the oppression of women and became a recognized feminist writer. In Two-headed Poems (1978) Atwood explored the national conflicts of Canada divided by two official languages and cultures. These social concerns are expanded in True Stories (1981), Interlunar (1984) and Morning in a Burning House (1995).
The feminist voice of Margaret Atwood is clearly heard in her earlier novels beginning with The Edible Woman (1969), Surfacing (1972), and Lady Oracle (1976). It retains its strength in Life before Man (1979) and Bodily Harm (1981). In her dystopian novel, The Handmaid's Tale (1985), she depicts an American society dominated by a fundamentalist dictatorship. In her retrospective narrative, Cat's Eye (1988), she explores a childhood of cruelty, abuse and betrayal among young women. A similar theme is further explored in The Robber Bride (1993). An historical murder case is the subject of Alias Grace which won the Giller Prize in 1996. Depression period Ontario is the setting for the gothic novel-within-a-novel, The Blind Assassin (2000). Atwood's futuristic novel, Oryx & Crake (2003) was nominated for both the Giller Prize and the Governor General's Award.
Because of the popularity of her many novels we often forget that Atwood has written some powerful short stories in a number of collections. The women in Dancing Girls (1977) remind us of the characters in her novels. Bluebeard's Egg (1983) contains some autobiographical events, while Murder in the Dark (1983) involves the reader in a deadly game of murder and lies. The stories in Wilderness Tips (1991) and Good Bones (1992) are full of the irony and satire so familiar to her readers.
In 1972 Atwood published the controversial Survival: A Thematic Guide to Canadian Literature which emphasized the environmental interpretation of Canadian literature and focused on Canadian literary characters as victims. This text was taken literally by many readers and students, exactly at a time when scholars were exploring alternative readings of Canadian works such as questions of dual identity, ethnicity and gender. Her large collection, Second Words: Selected Critical Prose (1984) is a more general commentary on Canadian writing and culture. When she returned to the environmental themes in Strange Things: The Malevolent North in Canadian Literature (1995) readers could see that these views were either ironic provocation or passé.
For more information about Margaret Atwood you can see our selected bibliography below and the many other web sites on her publications.
Updated April 22 2016 by Student & Academic Services