Thomas Wharton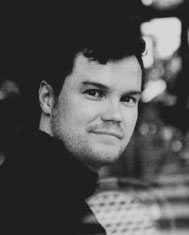 Thomas Wharton's first novel, Icefields (1995), won the Writers Guild of Alberta Best First Book Award, the Banff Book Festival Grand Prize and the Commonwealth Writer's Prize for Best First Book, Canada/Caribbean division. His second novel, Salamander (2001), was short-listed for the Governor-General's Literary Award, and for the Roger's Fiction Prize. Both novels have been published in other countries, including France, Germany, Italy, the U.K. and the United States. The Logogryph, a collection of Wharton's short fiction, was published in 2004 by Gaspereau Press.
Thomas Wharton earned a B.A. and an M.A. in English from the University of Alberta and a Ph.D. in Creative Writing from the University of Calgary.
He has been writer-in-residence at the Grant MacEwan Community College and at the University of Alberta, where he has also taught English. In addition he has been a guest speaker at conferences in Canada, U.S., Europe and China.
Thomas Wharton lives in Edmonton with his wife and three children, where he teaches English and is working on a new novel.
Updated February 12 2015 by Student & Academic Services