Daphne Marlatt
How put together a narrative of brightly coloured bits turned, turning as if to focus, and the falling patterns then. Beautiful forms. Illusions of continuity, of completion, made by mirrors.
—Daphne Marlatt, Taken 26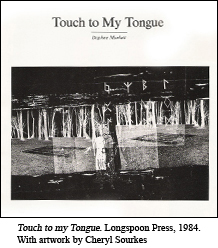 Marlatt is self-reflexively a West Coast, deconstructionist, lesbian and feminist writer. She has published more than twenty books that are hybrid forms of poetry, autobiography, prose, travelogue, essay, theory, historical fiction, history, journal, theory, and manifesto. She typically deploys long lines of internal dialogue and narrative poetry arranged into what she calls "stanzagraphs." She favours etymological deconstruction and wordplay. Her preoccupations are largely local, historical, feminist, and post-colonial.
Daphne Marlatt (née Buckle) was born in 1942 to British expatriates and spent her early childhood in Australia and Malaysia. Her family immigrated to Canada when she was nine years old, in 1951, settling in North Vancouver. Throughout her body of work Canada's West Coast, Vancouver, the city of Penang in Malaysia, and England all figure as various versions of "home" to Marlatt and her characters.
Marlatt began writing seriously during the 1960's amidst a wave of West Coast poets who were seriously committed to creating a new and distinct poetic sensibility. She studied creative writing at U.B.C. and was on the editorial board of the University's poetry newsletter, TISH. While a student, she began to publish her early poetry in various periodicals and in 1966 was anthologized in Souster's New Wave Canada.
Daphne Marlatt married in 1963 and moved with her husband to Bloomington where she obtained a Master of Arts in Comparative Literature at Indiana University. She gave birth to a son in 1969 and then returned home to Vancouver with her baby in 1970, separating permanently from her husband. In 1971 she published Rings, a volume of poems about pregnancy, birth, and early parenting. Marlatt then began to teach writing and literature at Capilano College where she also edited poetry for The Capilano Review.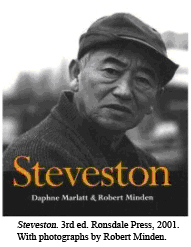 In 1972 Marlatt published Vancouver Poems and in 1974 she published Steveston, an important and well-known work of Canadian poetry. In it, Marlatt uses prose-poetry to sketch the small West Coast fishing village of Steveston and to elucidate its past as an internment camp for Japanese-Canadians during WWII. Zócalo, published as a novel in 1977, is a travelogue/cycle of long poems about a trip through Yucatan.
In her earlier writing (pre-eighties) Marlatt's developing style is easily recognizable although the feminist theory that figures so importantly in her latter work is not. Net Work, a selection of poetry spanning from Frames of a Story (1968) to What Matters (1980) is an excellent cross-section of her early poetry.
Marlatt co-founded periodies: a magazine of prose (1977-81) and the feminist journal Tessera in 1985 which she actively co-edited for eight years. She organized and participated in numerous feminist conferences and taught in several creative writing and women's studies departments. She served as writer-in-residence at the University of Manitoba (among others), and describes that period as, "a time of transition for me as i tried to integrate my feminist reading with a largely male-mentored postmodernist poetic, at the same time coming out as a lesbian in my life as well as in my writing."
Throughout the eighties Marlatt published numerous poetry collections including here & there (1981) and Touch to my Tongue (1984). How Hug a Stone (1983) is travel poetry written about a trip to England. She co-created two books of collaborative poetry with major Quebec feminist writer Nicole Brossard: Mauve (1985) and character/jeu de letters (1986). With Marlatt's lover, writer Betsy Warland, she also published the collaborative double negative in 1988.
Marlatt's growing feminist consciousness, connectedness with a feminist writing community, devotion to high feminist theory, self-reflexivity as a lesbian, and pre-occupation with writing as an erotic bodily act evidently crystallized in the work she published during the 1980's and early 90's.
In 88' Marlatt's best-known work, the novel Ana Historic, was published. Unconventional and innovative in form, the novel bemoans the insufficiency of patriarchal language to describe women's experience and attempts to construct a new narrative line, one that is non-linear and non-heroic. The plot follows the internal struggles of Annie who is working to write a novel that adequately describes the experiences of women both historic and contemporary—ultimately the narrator leaves her historian husband and takes a female lover before satisfyingly resolving her book.
Marlatt's work is personal, largely autobiographical, psychological and very deliberate. Because it works to render irrelevant such binary distinctions as prose/poetry, author/narrator, history/fiction, theoritical/erotic, Ana Historic can be read as a coming out novel on myriad levels.
In a 2003 interview by Sue Kossew Marlatt describes the genre choices of Ana Historic thusly:
I like rubbing the edges of document and memory/fiction against one another. I like the friction that is produced between the stark reporting of document, the psuedo-factual language of journalism, and the more emotional, even poetic, language of memory. That's why I used such a hodgepodge of sources in Ana Historic: a little nineteenth-century and very local journalism that sounds like a gossip column, a 1906 school textbook, various historical accounts, some contemporary feminist theory, and a school teaacher's diary from 1873 that was completely fictitious. (Kossew 55-56)
A 1991 publication by NeWest press, Readings From the Labyrinth, very effectively showcases the critical aspect of Marlatt's career by assembling letters, journal entries, essays, conference papers, lectures, and other academic and writerly paraphanelia.
Marlatt's most recent publication is the poetry collection Seven Glass Bowls (2003). She has recently been awarded the Order of Canada for her contributions to Canadian literature. Currently, she is a student of the Guleg school of Tibetan Buddhism. (Marlene Wurfel)
Updated February 12 2015 by Student & Academic Services