Rudy Wiebe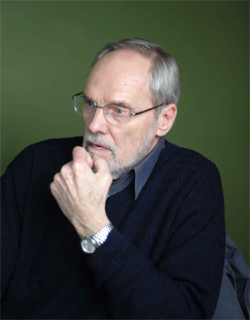 Rudy Wiebe, is best known for his novels set in the Canadian prairies and his representations of First Nations people. He was awarded the Governor General's Award for Fiction twice, for The Temptations of Big Bear (1973) and A Discovery of Strangers (1994) and won the Charles Taylor Prize for Of This Earth: a Mennonite Boyhood in the Boreal Forest (2006).
Born near Fairholme, Saskatchewan on his family's farm in 1934, Rudy Henry Wiebe grew up in a small Mennonite community where he attended school and developed an early appreciation for literature. In the time that he spent in Fairholme, Rudy read every book available on his school's few book shelves. During 1947, Rudy and his family left Saskatchewan and moved to the town of Coaldale, just east of Lethbridge in Southern Alberta. In 1956, he completed his undergraduate degree at the University of Alberta and by 1960 had received his M.A. in creative writing. In 1957-58, Rudy studied abroad at the University of Tübingen in West Germany. There he studied theology and literature and travelled to other European countries while in the company of Tena Isaak, another Canadian student whom he later married in 1958. In 1962 he earned a B.A. in Theology from the Mennonite Brethren Bible College where he later taught before becoming assistant professor of English at Goshen College in Indiana. In 1967, Wiebe took on a full time position with the University of Alberta teaching creative writing. He has been Professor Emeritus there since 1992.
Two major influences on Wiebe's writing are his religious beliefs and his experience of growing up as a Westerner. Wiebe believes that a person's place of birth is often more important than blood ancestry; claiming that where one is born is what influences one's life while blood ancestry is one's heritage and does not wholly make up who someone is or will be. Weibe's first novel Peace Shall Destroy Many (1962) was controversial among Mennonites due to the novel's concern with man's struggle to live a Christian life in a not so Christian world. The story is set in a Mennonite community during the Second World War which is similar to the community where he himself had grown up. His second and third novels, First and Vital Candle (1966) and The Blue Mountains of China (1970) deal with similar topics concerning spirituality and its place in the modern world. The Blue Mountains of China is considered Weibe's first epic novel since it traces a Mennonite migration. In 1973, his novel The Temptations of Big Bear won his first Governor General's Award for Fiction. It also led him twenty years later to collaborate with Yvonne Johnson on Stolen Life: The Journey of a Cree Woman (1999). Johnson is the great-great-granddaughter of Big Bear and was convicted of first-degree murder for killing a man who she mistakenly thought was a child molester. They began to work with the nineteen journals written by Yvonne, many days of conversation between the two and additional research done by Wiebe. They produced a story of racism, sexual abuse and drug addiction which were the resulting of the long-term effects of the hardships and injustice experienced in Yvonne's life. There are certain passages which are deemed disturbing in the novel and the books authenticity is sometimes questioned. The combination of Wiebe's sympathetic point of view and Johnson's gruesome life stories produced a powerful and moving novel.
In one of his later works, A Discovery of Strangers (1994), Wiebe writes about the first encounter between the Europeans and the nomadic Dene people. He constructs a love story between a young girl and a British mapmaker who set out on the Franklin expedition. The story involves themes of greed, passion, love and murder while told through the voices of the British explorers, the Tetsot'ine people and even by the Arctic land animals. This novel earned Wiebe his second Governor General's Award for Fiction and was a national best seller, beating out popular Canadian authors such as Alice Munro and Margaret Atwood. In Of This Earth: A Mennonite Boyhood in the Boreal Forest, Wiebe creates a personal memoir of his life growing up on the prairies. Combined with personal photographs, he portrays what life was like for early Mennonite immigrants in Canada and confirms his love for the land and its significance and influence on his writing. In addition to fiction Wiebe has written works of non-fiction and has released a collection of short stories. He has also written television scripts and done editorial work. His writing style is sometimes described as difficult and experimental and his work often aims to promote religious unity. He has been criticized for his use of syntax and rhythm, and his work is often described as challenging but always a rewarding reading experience. He is also known for being one of the only white Canadian writers to give a literary voice to the First Nations people of Canada. Rudy Henry Wiebe is one of Canada's most influential writers and his works are marked as major contributions to Canadian literature. (J. McKay)
Awards
1973 - Governor General's Award for Fiction for The Temptations of Big Bear
1986 - Royal Society of Canada's Lorne Pierce Medal
1994 - Governor General's Award for Fiction for A Discovery of Strangers
2000 - Made an Officer of the Order of Canada
2007 - Charles Taylor Prize for Of This Earth: A Mennonite Boyhood in the Boreal Forest
2007 - Leslie K. Tarr Award Winner
2009 - Honorary Doctor of Letters from the University of Alberta
2009 - Lieutenant Governor of Alberta Distinguished Artist Award Winner
Updated February 12 2015 by Student & Academic Services