Maria Ardizzi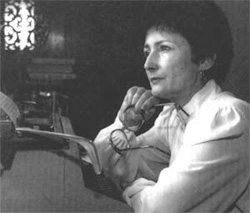 Maria Ardizzi is a Canadian author who writes and publishes in Italian. Two of her novels have been translated into English: Made in Italy and Women and Lovers.
Maria J. Ardizzi was born Maria De Dominicis in 1931 in Leognano (Teramo) Italy. After she finished her studies in Rome she moved to Toronto, Canada, with her husband in 1954. For many years she was involved with the Italian community in several cultural activities especially the printing of books and other material. She has been writing fiction in Italian for many years and has published short stories and articles in many newspapers and magazines. Her first novel, Made in Italy (1982) won the Ontario Arts Prize and was published in English translation with the same title. Both the English and Italian editions were widely distributed in part due to the Ardizzi family's links to many community networks. Her first novel deals with the memories of an old, physically paralysed woman as she reconstructs the story of her immigration to Canada. She endures the difficulties of adjusting to life in North America, the death of her husband and children, and finally confinement to a wheelchair. The physical handicap becomes a metaphor for the condition of the immigrant woman.
Ardizzi's second Italian novel, Il Sapore Agro della Mia Terra (1984) was followed by La Buona America (1987). This cycle of immigration novels was completed with Tra le Colline e di la dal Mare (1990). While all the novels are concerned with telling the story of immigration in a realistic fashion, the later books tend to use the Italian language in a more poetic style. It is as if Ardizzi, with each successive volume, was freeing herself of the burden of chronicling the immigrant experience and could focus more attention on using Italian in a way that was authentic to the experience in Canada.
In 1985 she brought out Coversazione col figlio (Toma), a bilingual collection of her poems dedicated to her son, Paolo, who died of Leukemia at twenty years of age. The poems are lyrical meditations on relationships, love and loss. In 1999 Guernica Editions republished the English version of Made in Italy which is an indication of the book's value and popularity. The following year they brought out Women and Lovers, an English translation of Ardizzi's unpublished novel, Donne e Amanti.
All of Ardizzi's novels were originally issued by Toma Publishing in Toronto . Her work has been included in the anthologies Italian Canadian Voices (1984), Pillars of Lace (1998), L'Altra storia (1998) and The Anthology of Italian-Canadian Writing (1998). Literary criticism on her work can be found in: Contrasts: Comparative Essays on Italian-Canadian Writing (1985), The Power of Allegiances (1997) and in Echo: Essays on Other Literature (1994).
Selected Bibliography
Maria Ardizzi. Made in Italy. Toronto: Guernica Editions, 1999.
_____. Women and Lovers. Toronto: Guernica Editions, 2000.
_____. Conversations with My Son. Toronto: Toma Publishing, 1985.
Updated February 12 2015 by Student & Academic Services