Susanna Moodie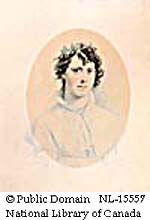 Susanne Moodie (née Strickland) was born in 1803 in Bungay, Suffold, England, the last of six sisters, including Catherine Parr-Traill. Like her other sister, Susanna began to write at an early age. She was especially attracted to historical figures that she believed to be misunderstood. She wrote and published at least seven didactic stories for children while in England, as well as contributing poems, short stories and articles to various collections and journals. She was also introduced to the injustices of slavery by fellow poet Thomas Pringle, and produced pamphlets describing the lives and sufferings of two Caribbean female salves.
In 1830, Susanna met Lt. John Wedderburn Dunbar Moodie. They married in 1831, and after their first child was born, they decided to emigrate to Canada in 1832. There they settled in Upper Canada (Ontario) on a half-cleared farm. But bad investments lead them to sell the farm and move into the "bush," where they stayed until her husband became sheriff of the newly formed county of Hastings.
During this time, in order to make ends meet, Susanna began publishing in local journals and ladies' magazines. Her best-known book is Roughing it in the Bush; or, Life in Canada, published in two volumes in 1852 and it's sequel Life in the clearings versus the bush, 1853. Both books chronicle her and her family's trials and challenges faced as they tried to make a life for themselves in Canada. With honesty, humor and sometimes bitterness, Susanna describes her new life in Canada, and her difficulty of adapting to a new country. The book inspired Margaret Atwood to write a collection of poetry titled The Journals of Susanne Moodie.
Susanna continued to write long, Gothic novels, and after her husband died in 1869, she lived with her children's families, turning away from writing. She instead focused on painting, which she taught her daughter Agnes, who went on to illustrate Catherine Parr-Traill's books on Canadian wildflowers. During her last year, she was bedridden, suffering from what her sister called "brain fever." Susanna Moodie died in 1885 at the home of her eldest daughter, Katie Vickers. (Lee Skallerup )
Updated February 12 2015 by Student & Academic Services