Lynn Coady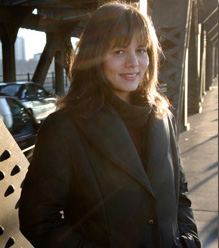 Lynn Coady is a novelist, playwright and short story writer who has lived in Nova Scotia, Ontario, British Columbia and Alberta.
Lynn Coady is author of the novels Strange Heaven (1998), Saints of Big Harbour, and, most recently, Mean Boy — published by Doubleday Canada in Spring of 2006. She has also published a short story collection, Play the Monster Blind (2000), and edited a collection of short fiction from Atlantic Canada called Victory Meat (2003). Her first novel was nominated for a Governor-General's Award for fiction, and since then she has garnered the Canadian Authors Association's Under-Thirty and Jubilee Award (for short fiction), as well as the Dartmouth Book Award and the Atlantic Bookseller's Choice Award. Most recently, she won the 2005 Canada Council for the Arts' Victor Martyn Lynch-Staunton Award for artists in mid-career.
Lynn was born and raised in the town of Port Hawkesbury in Cape Breton, Nova Scotia. She left to attend journalism school at Carleton University, but graduated with a B.A. in English and Philosophy. She continued to write plays and stories. In Vancouver Lynn earned a Master of Fine Arts from the University of British Columbia.
Lynn Coady has written non-fiction for publications such as Saturday Night, Chatelaine, Elle Canada, Canadian Geographic, Vancouver Magazine, The Globe and Mail, and Adbusters Magazine — where she worked as a senior writer and editor. She has taught creative writing at Douglas College, Simon Fraser University's Writer's Studio, The Sage Hill Writing Experience, The Maritime Writer's Workshop, and, most recently, the Banff Center's Wired Writing Studio.
Updated February 12 2015 by Student & Academic Services