Dôre Michelut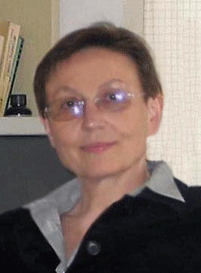 Dôre Michelut was a writer and teacher whose work  focussed on the inter-play of languages and the inter-play of poets sharing the poetic act.
Dôre  Michelut  is the Friulan form of her Italian name,  Dorina Michelutti.  She was born in Sella di Rivignano, a town near Udine, Italy, in the Friuli region.  In 1958 her family emigrated to Canada and she grew up in North York, Toronto.  After she graduated from high school in 1972 she returned to Italy to study at the Università di Firenze (1973-78).  Dôre returned to Canada in 1981 and took further courses the University of Toronto and later worked in the Robarts Library.  During this time she began to write and publish in literary magazines. Her first book of poems, Loyalty to the Hunt, appeared in 1986 with Guernica Editions, followed by Ouroboros: The Book That Ate Me (1990). Her much quoted essay, "Coming to Terms with the Mother Tongue," first appeared in Tessera, 6 (1989); and Tessera, 11 (1990) published "The Third Person Polite": an English journey into the Italian experience of the polite form.
A fascination with Asian forms of social poetry resulted in a series of  renga events with Anne-Marie Alonzo, Ayanna Black and friends in 1988. Linked Alive and the simultaneous French edition, Liens, were published in 1990. In 1991 Dôre moved to southern Alberta where she edited A Furlan Harvest (1993),  an anthology of  work by Friulan women writers in Canada. Her first book also appeared in French as Loyale à la chasse (1994) with Editions Trois of Montreal.
After 1996 Dore Michelut  wandered the globe. She lived and worked in different parts of the world including China.  In the interim, she earned a Masters in Applied Communication from Royal Roads University in Victoria, B.C. After China she was teaching at Al Akhawayn University in Ifrane, Morocco. She began a Ph.D. program in a university in Switzerland. She died of cancer in Oman in March 2009.
The work of Dôre Michelut has appeared in many literary publications and has been anthologised in Canada and Italy.  See the bibliography below.
Updated February 12 2015 by Student & Academic Services