Marisa De Franceschi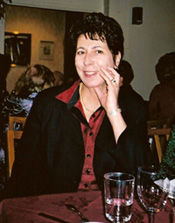 Photo of Marisa De Franceschi.Marisa De Franceschi is a teacher and writer who has captured the experiences of immigrant women in a variety of genres.
Marisa De Franceschi was born in Muris di Ragogna near Udine, Italy. She came to Canada in 1948 and grew up in Windsor, Ontario, where she graduated from The University of Windsor. She taught for over twenty five years. Her short stories, articles, and book reviews have appeared in a variety of Canadian publications including, Canadian Author & Bookman, The Mystery Review, The Windsor Star, and Accenti Magazine. Her work has appeared in a number of anthologies and she has twice been the recipient of the Okanagan Short Story Award. Surface Tension was her first novel. (Guernica Editions, 1994). She edited the anthology, Pillars of Lace, also for Guernica (1998). Her most recent publication is the short story collection entitled Family Matters (Guernica, 2001) and she edited another short story and poetry collection for River City press (2001) entitled The Many Faces of Woman. The first chapter of a new novel appeared in The Dynamics of Cultural Exchange (Cusmano, 2002). She is presently working on a book of prose pieces which is tentatively entitled Random Thoughts.
De Franceschi has been very active in the writing community in Windsor, Ontario, and has also severed on the executive of the Association of Italian-Canadian Writers (2000-2004). She has often traveled to the Friuli region of Italy where she was born. The distinctive language and culture of this region may be what gives her writing a particular perspective. See the bibliography below.
Updated February 12 2015 by Student & Academic Services