Nino Ricci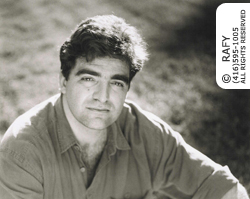 Nino Ricci's first novel, the best-selling Lives of the Saints, garnered international acclaim, appearing in over a dozen countries and winning a host of awards, including, in Canada, the Governor General's Award for Fiction (1990) and the Books in Canada First Novel Award, the Bressani Prize, and in England, the Betty Trask Award and the Winifred Holtby Prize. It was followed by In A Glass House and Where She Has Gone, which completed the trilogy that Lives of the Saints began. Where She Has Gone was shortlisted for the Giller Prize for Fiction. The Lives of the Saints trilogy was adapted for a miniseries starring Sophia Loren, Jessica Paré, Nick Mancuso, Fabrizio Filippo, and Kris Kristofferson. This trilogy deals with the experiences of an Italian family before and after they emigrate to Canada.
Born in Leamington, Ontario, in 1959 to parents from the Molise region of Italy, Ricci completed studies at York University in Toronto earning a B.A. in 1980. At Concordia University in Montreal he earned an M.A., and then went to the University of Florence. Ricci has taught both in Canada and in Nigeria with CUSO. He now lives in Toronto, where he writes full time. He is a past president of the Canadian Centre of International PEN, a writers' human rights organization that works for freedom of expression. Nino Ricci is an active part of the writing community in Toronto and has participated on many committees, panels and readings.
Nino Ricci's most recent novel is Testament, published in Canada by Doubleday and in the U.S. by Houghton Mifflin. It was the winner of the Trillium Award as well as being short-listed for the Commonwealth Prize for Canada and the Caribbean, the Rogers Writers' Trust Fiction Prize, and the Pearson Canada Readers' Choice Award. This novel is based on the life of Jesus Christ and is narrated from different points of view. For additional information on Ricci see the links below.
Updated February 12 2015 by Student & Academic Services