Dany Laferrière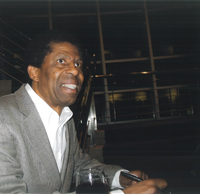 The most well-known Black writer in Quebec Dany Laferrière caught everyone's attention with the provocative title of his first book, How to make love to a Negro (1987). The original 1985 French title is longer, Comment faire l'amour avec un Nègre sans se fatiguer. It was adapted into a French film in 1990.
Originally from Haiti, Laferrière was born in Port-au-Prince in 1953, raised in the country village of Petit Goâve, later moved to Port-au-Prince and became a journalist, co-founding the weekly, Le Petit Samedi Soir. During the corrupt regime of Duvalier, his colleague Gaston Raymond was found murdered, and Laferrière decided to move to Montreal in 1978. In Quebec he continued to write about his own life and French society. His first book, How to make love to a Negro is called a novel but consists of a series of episodes narrated by young Black immigrant in Montreal who socializes with white women. Along with the humour and irony the narrator attacks racism, ethnic stereotyping, and negative treatment of other people. In 1987 he published Éroshima a novel about the narrator's love affairs with the Japanese-Canadian Hoki, her friend Keiko and other characters. The narrator is obsessed by the dropping of the atomic bombs on Japan and the image of lovers in the city of Hiroshima on the morning it was bombed. The many episodes include dialogues about famous people such as Norman Mailer, Rita Hayworth, John Lennon, Alberto Moravia, and Caribbean writer V.S. Naipaul.
In the next book L'Odeur du café (1991), in English, An Aroma of Coffee (1993), Laferrière returns to his childhood in Haiti. The ten-year-old narrator explains his relationship with his grandmother, a central figure in the little village. It is a life full of different people every day. The lyrical quality of the French writing has made this work Laferrière's masterpiece. The next book, Le gout des jeunes filles (1992), in English, Dining with the Dictator (1994), also take place in Haiti. The adolescent narrator is hiding from the henchmen of dictator Duvalier and takes refuge in the house of his friend Miki, a place filled with beautiful girls who fascinate him. He also learns about the power of words through the French poetry of Haitian writer Magloire Saint-Aude.
With his next book Laferrière returns to provocative titles, Why must a Black Writer write about sex? (1994) but the French title has a violent image, Cette grenade dans la main du jeune Nègre est elle une arme ou un fruit? This is a collection of little essays, Laferrière defends his views on race relations, Black culture and women and includes conversations and portraits of Black celebrities. The collection of poems, Chronique de la derive douce (1994) in English as A Drifting Year (1997), deals with the daily life of a Hatian immigrant in Montreal. His next novel is Pays sans chapeau (1996) in English, Down Among the Dead (1997). J'écris comme je vis (2000) was followed by Je suis fatigue (2005) and Je suis un écrivain japonais (2008). He has won many literary awards.
Laferrière's film work includes Woodoo Taxi (1998), Le gout des jeunes filles (2000), Comment conquerir L'Amérique en une nuit (2004), and Vers le Sud (2005). (Joseph J. Pivato)
Updated November 17 2016 by Student & Academic Services