Pasquale Verdicchio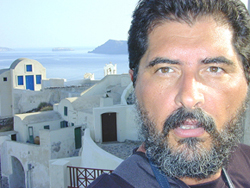 Pasquale Verdicchio is a Canadian poet, critic and translator who has made important contributions to the whole discourse on ethnic minority writing and culture.
Born in Naples, Italy, in 1954, he moved with his family to Canada and grew up in Vancouver, B.C. His first degree is from the University of Victoria, his M.A. from the University of Alberta and his Ph.D. from the University of California. He has been teaching in California for a number of years in the areas of Italian, film and creative writing.
Among Verdicchio's many books his works of poetry are significant for their originality with language and structure. They include: Moving Landscape (1985), Ipsissima Verba (1986), Nomadic Trajectory (1990), Approaches to Absence (1994) and The House is Past (2000). His most important critical work is Devils in Paradise: Writing on Post-Emigrant Culture (1997), Bound by Distance: Rethinking Nationalism Through the Italian Diaspora (1997), The Southern Question (1995) and translation of Gramsci.
He has also translated many Italian writers into English.
Updated March 03 2020 by Student & Academic Services