Hiromi Goto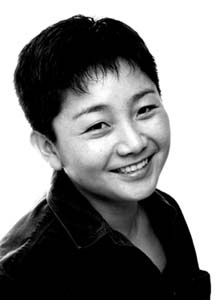 Hiromi Goto won the 1995 Commonwealth Writers' Prize for her first novel, Chorus of Mushrooms.
Hiromi Goto was born in Chiba-ken, Japan, near Tokyo. In 1969, when she was three years old, her family immigrated to Canada. They lived on the west coast of British Columbia for eight years before moving to Nanton, Alberta, where her father fulfilled a dream of starting a mushroom farm. Hiromi attended the University of Calgary, and graduated in 1989 with a B.A. in Humanities (English and Art). Her eighty-year old grandmother did tell her Japanese stories when she was growing up. Her work is also influenced by her father's stories of life in Japan. These stories often featured ghosts and folk creatures such as the kappa — a small creature with a frog's body, a turtle's shell and a bowl-shaped head that holds water.
Her novel, A Chorus of Mushrooms (1994), received the Commonwealth Writers' Prize for Best First Book in the Caribbean and Canadian Region and was co-winner of the Canada-Japan Book Award. Her short stories and poetry have been widely published in literary journals. Her second novel, The Kappa Child (2001) was nominated for the Sunburst Award for Literature of the Fantastic and for the Commonwealth Prize for Best Regional Book. The Kappa Child was awarded the James Tiptree Jr. Memorial Award. Her first children's novel, The Water of Possibility was also published in 2001. Hiromi is an active member of the literary community, a writing instructor and editor. She is also the mother of two children and lives in Burnaby, B.C.
Updated February 12 2015 by Student & Academic Services