Anne Hébert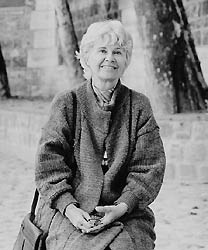 Anne Hébert was born in Sainte-Catherine-de-Fossambault on August 1, 1916. She started to write poetry in her teens under the tutelage of her father, Maurice-Lang Hébert (1888-1960), a provincial civil servant and a distinguished literary critic. Another crucial person in Hébert's life was her cousin, Hector de Saint-Denys Garneau (1912-43), a poet, who died of a heart attack at the age of 31. In 1952, her only sister Marie died suddenly of an illness. These two events would help shape her poetic vision, full of images of death and drowning.
After publishing her first collection of poems, Les songes en équilibres, which won Le prix David, she could not find a publisher for her collection of short stories, Le torrent. After publishing the collection at her own expense in 1950, she moved to Paris to escape the repressive Quebec society of the time and find a more receptive audience for her work. Her subsequent collection of poetry, Le Tombeau des rois, was published in 1953 and her first novel, Les chambres de bois, in 1958 signaled a significant shift in style and content for Québécois literature. Instead of realistic discourse, we find a literature of rebellion that is experimental and expresses a deep sense of alienation.
Anne Hébert continued to experiment with both theme and content, always with impressive results. In 1960, she published Poèmes, which won the Governor-General's Award. She won the same award for the novels Les enfants du sabbat (1975) and L'enfant changé des songes (1992). Possibly her most celebrated novel, Kamouraska (1970) won the Prix des libraires de France and the Grand prix of the Académie royale de la langue françaises de Belgique. The novel was made into a movie by Claude Jutra and is considered a classic of Quebec and Canadian literature. Hébert also won the Prix Fémina in 1982 for Les fous de Bassan.
Anne Hébert published over 25 works of poetry, prose and theatre over the span of more than 50 years, most of which were set in Quebec, where she made frequent visits. In 1997, she moved back to Quebec permanently, settling in Montreal. In 2000, she died at the age of 83 after a lengthy battle with bone cancer. She never married, nor did she have any children. What she did leave behind, however, is one of the most impressive and influential bodies of literature ever. (Lee Skallerup)
Updated February 12 2015 by Student & Academic Services