George Woodcock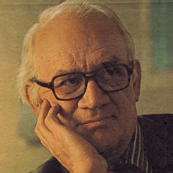 George Woodcock was a literary critic, historian, poet and editor who was instrumental in establishing the academic acceptance of Canadian literature.
His parents had come to Canada from England and Woodcock was born in Winnipeg, Manitoba in 1912. When he was still young the family moved back to England and so his education was at the Thames Valley grammar school and Morley College. Instead of attending university Woodcock worked at the Great Western Railway and became interested in political movements like anarchism. In the late 1930s he began to write and met other literary figures such as T.S. Eliot, Aldous Huxley, Herbert Read and George Orwell. His first book of poems, The White Island, appeared in 1940. He founded the literary magazine Now which published anarchist and pacifist articles against WWII which had just started. Woodcock spent the war as a conscientious objector working on a farm in Essex. His second collection of poems, The Centre Cannot Hold (1943) was followed by William Godwin: a biographical study  (1946).  After the war Woodcock and his wife Inge move to Canada and settled in Vancouver where he continued his writing and publishing:  The Incomparable Aphra: a life of Mrs Aphra Behn  (1948), The Anarchist Prince: a biographical study of Peter Kropotkin (1950) and Ravens and Prophets (1952).
While he had 6 books to his credit Woodcock had not formal university degree. In 1955 he began teaching English and Asian Studies at the University of British Columbia and expanded his publishing into travel writing: To the City of the Dead: an account of travels in Mexico (1957), Incas and other men: travels in the Andes (1959) and Faces of India (1966). He also began a series of bio-critical studies of writers: The Crystal Spirit: a study of George Orwell (1966), Dawn and the Darkest Hour: a study of Aldous Huxley (1972) and Herbert Read: the stream and the source (1972). With his Anarchism: A History of Libertarian Ideas and Movements (1962) he received international critical attention. As a result of his ideas on freedom of expression and the arts Woodcock did not limit himself on the genres he explored. Even his literary criticism makes use of sociology, history, and political thought in his readings of texts. He gradually developed a Canadian perspective on history, society and culture and a fundamental separation from the English views of the world. To me his direct writing style also seems appropriate for Canada.
In 1959 he became the first editor of Canadian Literature,a new literary quarterly at the University of British Columbia and began a career promoting Canadian authors and their writing. He mentored many young critics, such as Joseph Pivato, who published their first academic essays in Canadian Literature. He published Odysseus ever retuning: essays on Canadian writers and writing  (1970), Hugh MacLennan (1969) and The World of Canadian Writing (1980). He also wrote on Canadian history: Amor de Cosmos: Journalist and Reformer (1975) and  Gabriel Dumont: The Metis Chief and his Lost World (1975). His panoramic book, The Canadians (1979) demonstrates Woodcock's many interests and his encyclopaedic knowledge of his country's history, art, literature and politics. In his many books on Canada and Canadian writing Woodcock brought a particular western Canadian point of view which was often different from ideas found in Ontario and Quebec. By 1970 he had written twenty original plays for CBC radio.
By the time that George Woodcock died in 1995 he had published more than fifty books. See the bibliography below. George and Inge Woodcock  established The Woodcock Fund to provide financial assistance to writers who need help to complete book projects. It is difficult to do justice to such a prolific writer in a short biographical note. Readers can consult George Fetherling's biography, The Gentle Anarchist: A Life of George Woodcock (1998), or the link to the BC Book Awards website below.
Updated March 02 2021 by Student & Academic Services