Morley Callaghan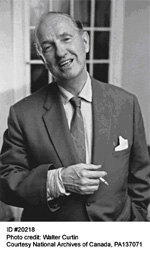 Morley Callaghan was born in Toronto in 1903 to Roman-Catholic parents. He attended St. Michael's College, University of Toronto from 1921-5. He earned a general arts degree by taking classes across a multiplicity of disciplines. He also participated in a wide variety of extra-curricular activities and worked part-time for the Toronto Star Weekly where he met Ernest Hemingway, who became an early mentor. Although he completed a law degree in 1928, Callaghan's first love was writing.
Callaghan's first novel, Strange Fugitive, appeared in 1928. In 1929, he signed with a publishing house in New York to produce his first collection of short stories, A Native Argosy. He married and sailed to France, where he socialized with Hemingway, F. Scott Fitzgerald and James Joyce in Paris. During a friendly boxing match with Hemingway he knocked out the American novelist, and as a result their friendship was never the same. Callaghan was heavily influenced by American naturalist literature, apparent in such novels as It's Never Over (1930) and A Broken Journey (1932). His most commercially popular book came in 1934 with Such is My Beloved. He followed with They Shall Inherit the Earth (1935), Now That April's Here and Other Stories (1936) and More Joy in Heaven (1937). These books, with their Christian theological themes, complex characterizations, and ambiguous treatment of love, established Callaghan as an important figure in North American literary circles.
The war saw his financial success wane, and he began to work once again as a professional writer. He wrote for newspapers and radio in order to support his wife and two sons. He felt that his inspiration was beginning to falter. But after three deaths of close family members, Callaghan once again turned to the redemptive power of literature. In the 1950s and 1960s, Callaghan involved himself in many aspects of writing, including working with the Writer's Union. In 1951, he finally won a Governor-General's Award for The Loved and the Lost. He also wrote That Summer in Paris (1963), a memoir of his summer in Paris in 1929.
Many of his books are available in new editions and are studied in college and university courses.
During the last two decades of his life Callaghan wrote with self-reflexive irony. He would often portray himself in his later works in a playful way, and would often refer to his early works and reviews. He was awarded a number of honours later in his life, including the Lorne Pierce Medal (1960) and the Order of Canada (1982). He died in Toronto in 1990. One of his sons, Barry Callaghan, is a successful writer and editor. (by Lee Skallerup)
Updated February 12 2015 by Student & Academic Services