Jane Urquhart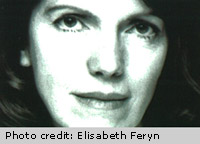 Jane Urquhart began her writing career as a poet and achieved international success with her fiction when her novel, The Whirlpool (1986), won France's Prix de Meilleur Livre Etranger. She was born Jane Carter in 1949 in the small mining town of Little Long Lac in northern Ontario. Her family moved to Toronto when she was five. At the University of Guelph she earned a B.A. in English (1971) and another in art history (1976). That year she married painter Tony Urquhart.
Her first major publications were books of poetry. The collection, I'm Walking in the Garden of His Imaginary Palace (1982), includes illustrations by her husband. False Shuffles (1982), was followed by Little flowers of Madame de Montespan (1984). Her collection of short stories, Storm Glass (1987), deals with history, memory and change, themes that are explored in The Whirlpool, three interconnected stories from nineteenth-century Canada. In her next novel, Changing Heaven (1990), a Canadian writer goes to England to study the Bronte sisters. Jane's Irish background is explored in Away (1993). Celtic tales and Canadian history are combined in the lives of four generations of women. Away remained on Canadian bestseller lists for over two years and won Ontario's Trillium Award in 1994. Urquhart's fourth novel, The Underpainter (1997), won the Governor General's Award. It deals with the long life of a painter and his relations with friends and lovers. Her next novel, The Stone Carvers (2001), also deals with artists and turn-of-the-century Canada. It begins with German immigrants to southern Ontario and ends with the Canadian and Italian stone carvers who worked on Walter Allward's war memorial at Vimy Ridge in the 1930s. It was shortlisted for both the Giller Prize and the Governor General's Award. In 2006 Urquhart published her sixth novel, A Map of Glass.
In 1996 Urquhart was named to France's Order of Arts and Letters as a Chevalier. Her novels have been translated into several European languages. She has been writer-in-residence in Ottawa, Memorial University, Guelph University and the University or Toronto. She has lectured in Europe, the U.S. and Australia and often travels to Ireland.
Updated February 12 2015 by Student & Academic Services