Canadian Martyrs and Huronia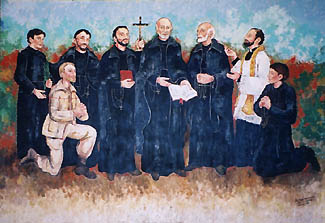 Jesuit missionaries worked among the Hurons, in the Georgian Bay area of Central Ontario, which we call Huronia. Their base was the settlement of Sainte-Marie on the Wye River from 1639 to 1649.
The Hurons in this region were farmers, fishermen and traders who lived in villages surrounded by wooden palisades for protection. These industrious people virtually controlled the trade in corn, tobacco and hemp which they grew along with neighbouring tribes. They used these commodities in their fur trading with more distant tribes which they reach by birch bark canoe. Their long-time enemy were the Iroquois who were competing over control of the fur-trade.
In 1615 Samuel de Champlain had explored the region and realized the economic and strategic value of the inter-lake area. He planned to establish a strong French settlement there to take advantage of the fur trade and as a counter-threat to the Iroquois and the English, Dutch and Spanish south of the Great Lakes.
The warfare escalated as Iroquois war parties came north into Huronia. The Jesuits who were friends of the Hurons became victims of this war. In 1646 Fr. Jougues and two lay helpers, René Goupil and Jean de la Lande, died at Auriesville. Then on July, 1648, Fr. Antoine Daniel was killed near Teanaostaiae. In March 1649 Fr. Jean de Brébeuf and Fr. Charles Lalemant were martyred at St. Ignace, a Huron village near Ste. Marie. That year Fathers Charles Garnier and Noel Chabanel were killed in Petun country.
In 1649 the remaining Jesuits had to abandon Ste Marie. Along with several hundred Hurons they retreated north to Christian Island in Georgian Bay. The following year the
French missionaries and a few Huron helpers made the long journey east to Lorette, near Quebec city. (Montreal at this time was the little settlement of Ville-Marie.)
In 1940 these eight men were officially recognized as martyrs and canonized as saints by the pope in Rome. The Martyrs' Shrine which includes a stone church can be visited outside Midland, Ontario.
The lives and deaths of these early European settlers in Canada have had a significant impact on the imagination of artists and writers.
Father Jean de Brébeuf composed the first Christmas carol in Canada (circa 1641). It was written in French and in the Huron language which was transcribed by sound in the following manner:
Jesous ahatonhia
Estennialon de tsonwe
Jesous ahatonhia
Onnawatewa d'oki
n'onwandaskwaentak
Ennonchien skwatrihotat
n'onwandilonrachatha
One part of the Jesuit Relations was written in Italian by Francesco Bressani who later published his account in Italy in 1653. We could call him the first Italian-Canadian writer.
Marie de l'Incarnation (1599-1672) a widow who became an Ursuline nun, ran a school in Quebec for over thirty years and wrote thousands of letters to her son, Claude Martin, back in France. After her death he published 228 letters which like the Jesuit Relations have become a social history of early Canadian settlement.
In 1940 E.J. Pratt published the long poem, Brébeuf and his bretheren, which deals with the Jesuit missionaries and their struggles with the Iroquois attacks on the Huron.
In 1966 Leonard Cohen published Beautiful Losers, a novel which includes retellings of the torture and deaths Jesuit martyrs. A prominent story is that of Catherine Tekakwitha who is an Iroquois convert to Christianity who died in 1680 and is considered a saint.
In 1985 Brian Moore published Black Robe, a novel about the Jesuit missionaries in New France.
The early Jesuit missionaries to New France have left a significant heritage in the form of schools such as Loyola College and Brébeuf College. Quebec literature is rich with allusions and direct references to these early pioneers of French civilization in the New World. Philippe-Joseph Aubert de Gaspé circa 1863, Laure Conan circa 1884, Ringuet circa 1938 and Anne Hebért circa 1970, are examples of writers who refer back to New France.
Sainte-Marie among the Hurons is the historic reconstruction of the original Jesuit settlement from 1648. The buildings stand on the original location including the grave of Fr. Jean de Brébeuf.
Updated February 12 2015 by Student & Academic Services