Georges Bugnet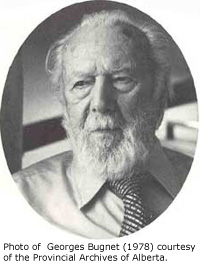 Georges Bugnet is one of the major French writers of Western Canada. During a life which spanned 101 years he published four novels in addition to short stories, essays and poems. He was born in France in 1879 at Chalon-sur-Saône, Burgandy, and was educated at the Université du Dijon and the Sorbonne. In 1904, at the age of 25, he came to Canada with his young wife, Julia. In 1905 after working in Saint-Boniface, Manitoba, where their first son, Charles, was born they moved to St. Albert, Alberta. In March 1906 they took up their homestead near Lac Majeau, 80 km northwest of Edmonton, in an area later named Rich Valley. That year Alberta became a province, and their second son, Paul, was born. Paul died a year later in a fire. In 1908 Joseph was born and in 1910 the first daughter, Marie.
An interest in botany lead Bugnet to experiment with plants that would thrive in the northern Alberta climate. Using seeds from the Lagoda Lake region of Russia, he developed the Lagoda pine. A double wild rose from Russia was crossed with the Alberta single variety to produce the famous Thérèse Bugnet rose, named after his sister. Bugnet became a knowledgeable horticulturalist and contributed to the development of plant species in Alberta. In his honour the provincial government named a forest reserve the Bugnet Plantation Historical Site.
As the father of nine children Bugnet was involved in the educational programs of the area. For thirty years he served as secretary of the Rich Valley School District, and for thirteen years as a school trustee at Lac Ste Anne.
Bugnet is best known for his novel, La Forêt (1935) trans. The Forest (1976). This is one of the earliest examples of realism in Canadian literature and reflects Bugnet's fascination with living in the forest and its affects on human behaviour. When he published his first two novels, Les Lys de sang (1922) and Nipsya (1924) he used the pen-name, Henri Doutremont. From 1924-29 Bugnet was editor of the Alberta French language paper, l'Union, and spent several days each week in Edmonton. In 1934 he brought out Siraf. Étranges Révélations. He continually wrote poems and published his first collection, Voix de la solitude (1938). Bugnet published articles, poems and stories in a variety of publications: Le Canada Français, Les Idées, La Survivance and other publications including English periodicals up until 1966 when failing eyesight and old age forced him to stop. In 1978 the University of Alberta bestowed on him an honourary doctorate. He died in St. Albert, Alberta, in 1981.
Updated February 12 2015 by Student & Academic Services