Laura Goodman Salverson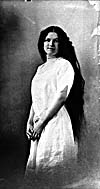 Born in Winnipeg in 1890 Salverson is the first novelist to explore the immigrant experience in the West. With her Icelandic immigrant parents she wandered across the United States and Canada. Her early education was frequently interrupted and she did not learn English until she was ten. She did, however, learn about her heritage and culture from her parents, primarily from her father, who would tell her tales, myths and legends from Iceland. She married George Salverson who was a railwayman, and therefore continued living a transient lifestyle. She supplemented their income through her writings.
Salverson is the first writer to record the challenges, hardships and drama of the immigrant experience in the Canadian praries. She was very critical of the "Canadian Dream" and the "American Dream," as well as the loss of culture by those who have immigrated. Her first Canadian novel, The Viking Heart (1923), follows the immigration of 1400 Icelanders in 1876 to Manitoba until the First World War. A confirmed pacifist, Salverson was extremely critical of the war, and this criticism comes through again in The Dark Weaver (1937), for which she won a Governor General's Award. In this novel, World War I destroys a newly formed community of Nordic immigrants. When Sparrow Falls (1925) looks at Norwegian immigrants in an American city, and also focuses on the feminist struggles as well as the dilemma between New and Old World values.
Her latter novels turned towards romance and the re-telling of old Norse sagas, as well as the tradition of exploration that took place before Columbus. In 1939, Salverson published her autobiography, Confessions of an Immigrant's Daughter, which won her another Governor-General's Award. The book details her life up until the publishing of The Viking Heart, which describes her own family's struggles and experiences in the New World, as well as their unfulfilled expectation.
Updated February 12 2015 by Student & Academic Services