Sharon Pollock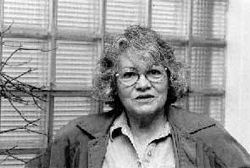 Sharon Pollock was born in 1936 in Fredericton, New Brunswick, the daughter of physician and M.L.A., Everett Chalmers, on whom the portrait of "Doc" in the play by that name is based. She attended the University of New Brunswick, but left before graduating in 1954 to marry Ross Pollock, a Toronto insurance broker. When they separated in the early 1960s, she returned to Fredericton with her five children. She worked at the Playhouse Theatre in Fredericton at various jobs, including some acting, then moved to Calgary in 1966 with actor Michael Ball. She toured with the Prairie Players in 1966, and won a Dominion Drama Festival award for her performance in Ann Jellico's The Knack. She began writing her first play, A Compulsory Option, while expecting her sixth child; this unpublished play won an Alberta Culture playwriting competition in 1971, and premiered in 1972 at the New Play Centre in Vancouver. Walsh premiered at Theatre Calgary in 1973, and the following year it was produced at the Stratford Festival in the Third Stage theatre. While living in Vancouver, she wrote children's plays for Playhouse Holiday and Playhouse Theatre School, and radio plays for the CBC. And Out Goes You? was first produced at the Vancouver Playhouse in 1975, and The Komagata Maru Incident at the same theatre the following year. Pollock played Lizzie in her next play, My Name is Lisbeth, when it was produced at Douglas College, Surrey, B.C. in 1976. In 1976 Pollock worked at the University of Alberta as a playwriting instructor, and returned to Calgary in 1988. Calgary has become for her an emotional as well as a physical home base: she maintains that "you don't always come from the place you're born in. The trick is to recognize it." (quoted in O'Grady).
In 1999 she was awarded the Harry and Martha Cohen award for her significant contribution to Calgary theatre. One Tiger to a Hill premiered in Edmonton in 1980 at the Citadel Theatre; Blood Relations at Edmonton's Theatre 3 in 1980; Generations at Alberta Theatre Projects, Calgary in 1980; Whiskey Six Cadenza at Theatre Calgary in 1983; and Doc at Theatre Calgary in 1984. She has been artistic director at both Theatre Calgary (1984) and Theatre New Brunswick (1988), her tenure at both theatres cut short by differences of opinion over artistic direction with the board. She has also been playwright in residence at Alberta Theatre Projects and the National Arts Centre, and head of the Playwrights' Colony at the Banff Centre for the Arts (1977-80). In 1981 she returned to performing, as Miss Lizzie in Theatre Calgary's production of Blood Relations, and in her monologue, Getting it Straight (1989) at the International Women's Festival in Winnipeg, and at the Fringe Theatre Festival in Edmonton. In 1993 Fair Liberty's Call premiered at the Stratford Festival, and Saucy Jack opened at the Garry Theatre in Calgary under her direction. Moving Pictures premiered at Theatre Junction, Calgary in 1999, and End Dream at Theatre Junction in 2000. Angel's Trumpet, which tracks the relationship between F. Scott Fizgerald and his wife Zelda, opens at Theatre Junction in February 2001.
Sharon Pollock has received many awards for her plays: the Governor General's Award for Blood Relations and Doc, the Canada Australian Literary Award in 1987, a Japan Foundation Award in 1995, the Nellie Drama Award for her radio play, Sweet Land of Liberty (1981), and a Golden Sheaf Award for her writing for television.
In 1998, she was elected president of the Alberta Playwrights Network. She continues to encourage new writing and new playwrights, and remains committed to the life of the theatre.
Updated February 12 2015 by Student & Academic Services