Hugh MacLennan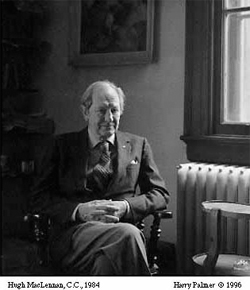 Born in 1907 in Glace Bay, Nova Scotia, Hugh MacLennan is considered one of Canada's most nationalistic novelists. He was educated at Dalhousie Univerity, and as a Rhodes Scholar at Oxford before doing his doctoral studies at Princeton. In 1935, he began teaching Latin and history at Montreal's Lower Canada College. He married American writer Dorothy Duncan in 1936. In 1954, he taught English part-time at McGill University, and became a full professor in 1968. He retired as a professor emeritus in 1979 and lived in North Hatley, Quebec, until his death in 1990.
When MacLennan was 10 years old, he witnessed the Halifax Explosion, which served as the inspiration for his first novel, Barometer Rising (1941). This novel provided him with national and international recognition as an author, and MacLennan followed up on the success with Two Solitudes (1945), which won the Governor-General's Award. The novel examines the linguistic divide that existed in Quebec at the time. The title of the novel has become the expression synonymous with the bi-cultural nature of Canada. He won another GG award with the novel The Precipice (1947) and two for non-fiction with the collections of essays Cross-Country (1949) and Thirty and Three (1954). After the death of his wife Dorothy, he published The Watch that Ends the Night (1959), which some consider to be his best novel, and won his record fifth GG award. He published a third and final collection of essays in 1960, Scotchman's Return and Other Essays.
In his last two novels MacLennan has a more negative view of Canadian politics and society. He returns to the question of national unity in Return of the Sphinx (1967) where the relations between the English and the French have deteriorated into hatred and violence. A dystopian vision is evident in Voices in Time (1980) set in Montreal fifty years after a nuclear explosion.
As can be seen through this sample bibliography, MacLennan was an accomplished author and essayist. He wrote for many newspapers and for MacLean's magazine. He was clearly a nationalist, a sentiment expressed clearly in Two Solitudes, and reflected in all of his works, both fiction and non-fiction. He was also heavily influenced by his Classical education, and many have pointed to the Odyssean theme that many of his works contain. MacLennan celebrated Canada with all of its varying regions in all of his works, and represents one of the first authors to do so with as much passion and consistency. (Lee Skallerup)
Updated February 12 2015 by Student & Academic Services